HOW TO TAKE YOUR MEASUREMENTS
Here is a good guide on how to take your measurements. To get the right size, measure carefully, and update your measurements regularly.
Find Your Size
Special occasion dresses are sized differently than ready-to-wear clothes. You might find yourself ordering the special occasion dress in a larger size than the size you usually wear. We strongly suggest you have your measurements taken by a professional before buying online.
All dresses on our website can be custom made to exact measurements if you provide us with your custom sizes. If you decide to order standard size, you may use the following charts to map your measurements to the closest size to be ordered. If your measurements indicate one size for the "bust" and a different size for the "waist and/or hips", we suggest ordering according to the largest measurement. Dresses can easily be taken in by a skilled tailor or professional seamstress.
Dress Size Chart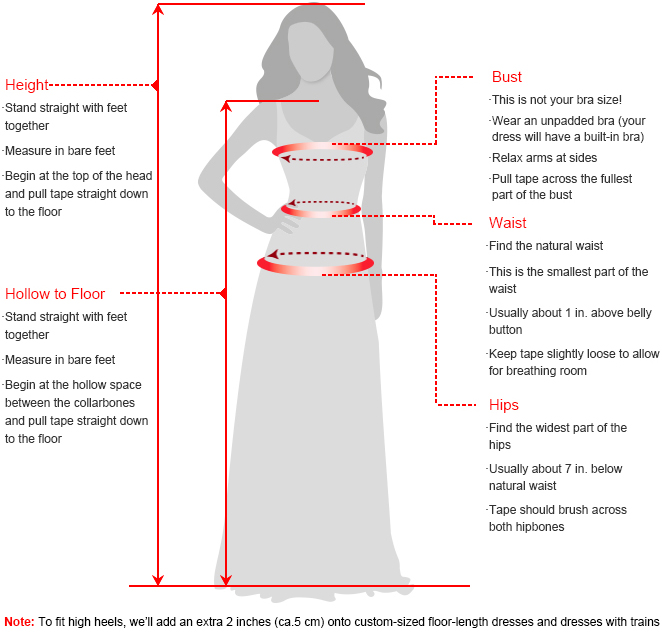 INCM
| | | | | | | |
| --- | --- | --- | --- | --- | --- | --- |
| US | UK | EU | Bust | Waist | Hips | Hollow to Floor |
| 2 | 6 | 32 | 32 ½ | 25 ½ | 35 ¾ | 58 |
| 4 | 8 | 34 | 33 ½ | 26 ½ | 36 ¾ | 58 |
| 6 | 10 | 36 | 34 ½ | 27 ½ | 37 ¾ | 59 |
| 8 | 12 | 38 | 35 ½ | 28 ½ | 38 ¾ | 59 |
| 10 | 14 | 40 | 36 ½ | 29 ½ | 39 ¾ | 60 |
| 12 | 16 | 42 | 38 | 31 | 41 ¼ | 60 |
| 14 | 18 | 44 | 39 ½ | 32 ½ | 42 ¾ | 61 |
| 16 | 20 | 46 | 41 | 34 | 44 ¼ | 61 |
| 16W | 20W | 46 | 43 | 36 ¼ | 45 ½ | 61 |
| 18W | 22W | 48 | 45 | 38 ½ | 47 ½ | 61 |
| 20W | 24W | 50 | 47 | 40 ¾ | 49 ½ | 61 |
| 22W | 26W | 52 | 49 | 43 | 51 ½ | 61 |
| 24W | 28W | 54 | 51 | 45 ¼ | 53 ½ | 61 |
| 26W | 30W | 56 | 53 | 47 ½ | 55 ½ | 61 |
Junior Dress Size Chart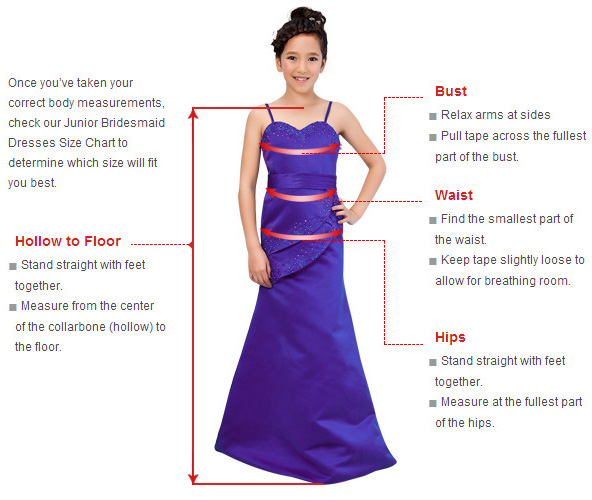 INCM
| | | | | |
| --- | --- | --- | --- | --- |
| Size | Bust | Waist | Hips | Hollow to Floor |
| J4 | 22 | 20 | 25 | 42 |
| J6 | 24 | 22 | 27 | 45 |
| J8 | 26 | 24 | 29 | 48 |
| J10 | 28 | 26 | 31 | 50 |
| J12 | 30 | 28 | 33 | 51 |
| J14 | 32 | 30 | 35 | 53 |
| J16 | 34 | 32 | 37 | 55 |
Flower Girl Dress Size Chart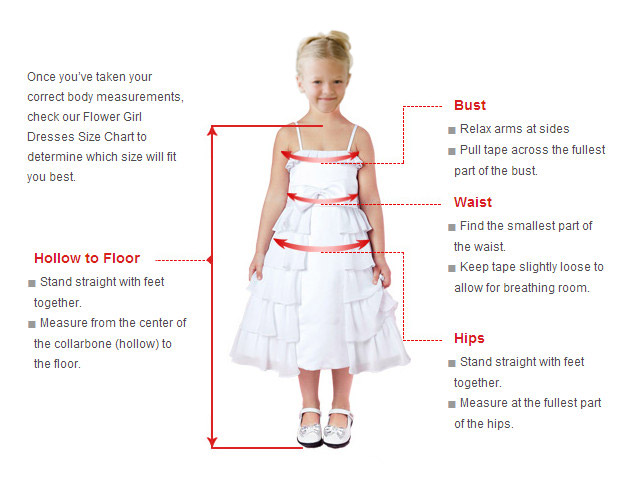 INCM
| | | | | |
| --- | --- | --- | --- | --- |
| Size | Bust | Waist | Hips | Hollow to Floor |
| Child2 | 21 | 20 | 20 | 33 |
| Child3 | 22 | 21 | 21 | 35 |
| Child4 | 23 | 22 | 22 | 38 |
| Child5 | 24 | 23 | 23 | 40 |
| Child6 | 25 | 24 | 25 | 41 |
| Child7 | 26 | 25 | 26 | 42 |
| Child8 | 27 | 26 | 27 | 43 |
| Child9 | 28 | 27 | 29 | 44 |
| Child10 | 29 | 28 | 31 | 47 |
| Child11 | 30.5 | 29 | 33 | 48 |
| Child12 | 32 | 30 | 34 | 50 |
| Child13 | 33 | 31 | 34.5 | 51 |
| Child14 | 34 | 32 | 35 | 52 |